Friends Len Dennick and Jack Goodreds Think Ahead for Their Class of '56 Scholarship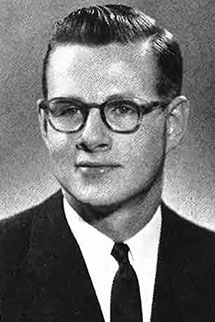 Len Dennick

Jack Goodreds and the late Dr. Len Dennick, both class of '56, were college friends who used to write articles together for the old Colgate Maroon newspaper. After college they didn't see each other until both retired to Florida. But the two friends separated by the years discovered they shared an interest in helping students via their estates, with both making bequests to support the Class of '56 Endowed Scholarship.
"We got to know each other as freshmen in the fall of '52," Jack recalls. "He was a good guy—very smart—and we were friends all through college. After college I did not see him for years, but when I retired to Delray Beach, Florida, he was nearby in Fort Lauderdale. We had lunch together, and he was overjoyed to see me. He had already done something in his estate plan for Colgate, but we talked about the Class of '56 scholarship."
Len, a research physician in New York and New Jersey for more than 50 years, celebrated the Class of '56 50th reunion by including an estate gift of $325,000 for the class scholarship.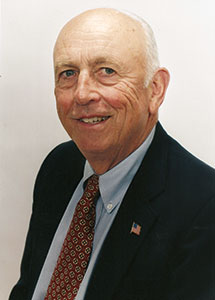 Jack Goodreds

Jack, in addition to his bequest, has also established three gift annuities with Colgate that benefit his current wife, Susan. The remainder of one will go to the Class of '56 scholarship, while the other two will go to the Goodreds Memorial Endowed Scholarship—which Jack has funded over the last twenty-five years. Last year their scholarship awarded $8,400.
"It's one of the best things I ever did," Jack says of the named scholarship. "Usually I get a nice letter from the scholarship student. I have been getting my relatives to add to the scholarship rather than giving me presents. I tell them, 'When somebody gets past 65, they don't need any more socks, underwear, or ties. Instead of giving me a gift, make a contribution to Colgate.' "
Jack received a scholarship to attend Colgate and worked his way through school. He graduated with honors as an economics major and spent most of his career in the newspaper industry, retiring as president of Ottaway Newspapers in Goshen, New York. His son John S. Goodreds Jr. graduated from Colgate in 1987. He also has a daughter, Cynthia Schlachtenhaufen; both of whom are children with his first wife, Helen, who died in 1991. Jack has received a Maroon Citation, served on the Alumni Council, is presently on the Planned Giving Committee, and is a member of the Willow Society for those who make planned gifts to Colgate.
Len was a chemistry major at Colgate, graduating Phi Beta Kappa. He was a member of the Delta Upsilon fraternity, Konosioni (Colgate's senior honor society), choir, orchestra, and the marching and concert bands. He earned his medical degree from Columbia University and then became a medical researcher for pharmaceutical companies, including Schering, Squibb, and Bristol-Myers Squibb. He never married and spent much of his career in Princeton, New Jersey, before retiring to Fort Lauderdale. Len was a collector of art: he particularly liked Salvador Dali and portraits of Winston Churchill.
The two friends shared a love of Colgate and had a strong desire to help students by giving back.
"There's only one place like Colgate," Jack says, "and I believe that if you have fond memories, you in some way owe it to your school to give back. Especially if you feel the same way as Len and me about your time at Colgate: It was the best four years of our lives."
Back
The discussion herein is general in nature and may not apply to all individuals. Prospective donors are urged to consult their personal tax and financial advisors concerning the specific consequences of making gifts to Colgate. We would be pleased to discuss, in confidence, ways in which you may support Colgate. These measures may also have an impact on your estate planning.
© Pentera, Inc. Planned giving content. All rights reserved.