Donor Stories
Ellis Rowland '57: Choosing Colgate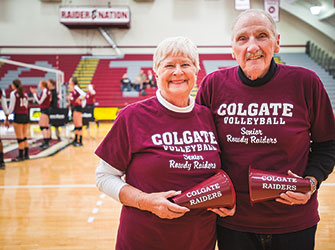 Ellis '57 and Suzee Rowland, co-founders of Colgate's Senior Rowdy Raiders

I was the first one in my family to go to college. We were a very blue collar family—my father was a railroad conductor. I was an only child, and my mother wanted me to get ahead—to live the dream. Going to college was how you got ahead. So I grew up with the family telling me that you don't stop at high school. You go to college.
I didn't have an idea of what I wanted to do. I applied to Colgate because you had an opportunity to look at a lot of areas in your first year or two and make a decision after being exposed to things. I took history, political science, and chemistry. I ended up majoring in psychology because I took a psychology course and really liked it.
A Colgate connection provided my first job in sales and marketing at Monroe Business Machines. I spent five years in the Army Reserve and was married shortly after I finished active duty. Then I got another job, again through a Colgate connection—Ken Osgood '39, at Johnson & Johnson. After 12 years I decided to change careers, and I went into advertising sales for business-to-business magazines.
When I was with Johnson & Johnson, I worked in southern Pennsylvania, southern New Jersey, and Delaware. I was a charter member of Colgate's first Delaware alumni club in Wilmington. When I was promoted to take a territory in Washington, Maryland, and Virginia, I went to several meetings in D.C. and Baltimore. After two-and-a-half years, I went back to the New York office—that's really where I started volunteering on behalf of Colgate. I worked on the 25-year reunion for my house, Theta Chi. I volunteered for annual fund telethons. Then I became the chairman of the Class of 1957's 30th Reunion, and I've been chair or co-chair ever since.
I realized that I was really fortunate in having gone to Colgate because they offered not only connections but also an education. I learned to communicate, write papers, and use my time effectively. Because of that feeling, I can't remember the last time I said no to Colgate.
The university played a big part in what I have been able to accomplish. I would like to make sure that more people who should be at Colgate are able to attend and benefit as I did.
I had a friend—a really, really nice guy—and he had three daughters, close together. His oldest daughter wanted to go to Colgate, and she was accepted. But the university couldn't provide the financial aid resources that he would need, given that he would have several children in college at once, and Colgate lost a talented student.
As co-chair of our 50th Reunion with my good friends Jack Theriot and Jim Aston, I really pushed to designate our class gift to scholarships. I felt that we needed to help Colgate build a stronger financial aid endowment, and I felt that planned gifts were the way to help Colgate do it. Some people put Colgate in their wills. Annuities are another good idea. My wife, Suzee, and I did that because we knew it would grow over time and Colgate would receive the benefit—we also thought of an annuity as something for us to fall back on if necessary, a way to have some income in retirement. In addition, we bought a $100,000 life insurance policy—naming Colgate as the beneficiary. In all of these ways we could give something that grows and that would be there at the end.
I'm happy that, in some small way, Suzee and I can assist others. We also have the chance to see the results. After I retired and our youngest son moved away, we started to look around for a new home. We never had plans to move back to Hamilton, but we were in town for Rebecca Chopp's inauguration—and it was a fall day, beautiful sun, leaves changing color. We were driving south on Broad Street on our way out, and Suzee said, "I think we've overlooked someplace." The following week, we started making plans to come back to Hamilton and shop for houses.
We have never looked back. Our friends—the non-Colgate friends who come up to visit us for a weekend—now say, "We know why you moved here." They understand.
Back
The discussion herein is general in nature and may not apply to all individuals. Prospective donors are urged to consult their personal tax and financial advisors concerning the specific consequences of making gifts to Colgate. We would be pleased to discuss, in confidence, ways in which you may support Colgate. These measures may also have an impact on your estate planning.
© Pentera, Inc. Planned giving content. All rights reserved.