Donor Stories
Insurance Gift from Sheri and Jim C Quick '68 Provides for Future Students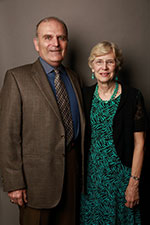 James Campbell Quick '68 and his wife, Sheri

James Campbell Quick '68 and his wife, Sheri, have made Colgate the owner and beneficiary of a $500,000 life insurance policy—with the funds to be used for student scholarships.
"My inspiration for our gift goes back to my undergraduate years; what really touched me was my math department chairman, Jim Wardwell, who inspired me to excel," Jim says. "Now we want to support worthy students to fulfill their dreams who otherwise could not afford a college education."
Jim is making a gift to Colgate each year to cover the premium on the life insurance policy, using the required minimum distribution (RMD) from his IRA. Colgate owns the policy, and Jim directs his IRA to write Colgate an annual check to cover the premium. The amount counts toward his annual RMD, and the money is never recorded as taxable income to the Quicks.
Jim said the single most important consideration influencing his decision to make a gift was "the continuing rise of college costs across the country."
"College cannot only be for those who can afford it," he says. "Sheri and I are in lockstep with each other as far as philanthropy and supporting higher education. We support both of our alma maters."
There are two reasons why they decided to make the gift to Colgate now. "The first thing that prompted us was my upcoming 50th Reunion, and the second was that Sheri and I were doing strategic planning for our future and our legacies," Jim explains. "We both realize how blessed our lives have been, and we want to share our good fortune rather than spend it on ourselves."
Back
The discussion herein is general in nature and may not apply to all individuals. Prospective donors are urged to consult their personal tax and financial advisors concerning the specific consequences of making gifts to Colgate. We would be pleased to discuss, in confidence, ways in which you may support Colgate. These measures may also have an impact on your estate planning.
© Pentera, Inc. Planned giving content. All rights reserved.