Donor Stories
Thomas A. Pursley III '66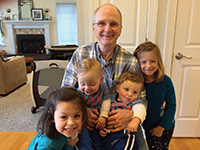 Thomas A. Pursley III '66 with his grand nieces and nephews Leah, Levi, Logan, and Sophia Glickman

Tom Pursley Funds Second Gift Annuity with Colgate Because "Education Is a Beautiful Thing"
In 1996, when the charitable gift annuity (CGA) program at Colgate was still quite new, Thomas A. Pursley III '66 gave a gift of stock and became the first person to establish a deferred-payment gift annuity with the university. Twenty years later he has set up another gift annuity with Colgate.
"I was very unsophisticated about retirement strategies when I made my first gift," says Tom. "Had I better understood the benefits, I certainly would have contributed more." Tom encourages all alumni to consider this "win-win" opportunity—especially younger alumni who have the advantage of many more years to contribute, thereby creating a larger annuity payment for themselves and eventually a larger gift for Colgate.
Tom fell in love with Colgate "at first sight" as a high school senior. He visited campus on a whim, on a beautiful fall day, and thought, "If only I could go to school here." Tom says that his Colgate education taught him to think and analyze and to be able to discuss a wide range of topics. "I can't think of a better preparation for my career as a trial lawyer," he says.
Tom's original CGA was unrestricted, to be used in the area of greatest need, while his newer CGA will help the Class of 1966 Endowed Internship. "Education is a beautiful thing. It opens so many doors," says Tom. "If other alumni got a fraction of what I did from Colgate, I hope others are inclined to give back."
Back
The discussion herein is general in nature and may not apply to all individuals. Prospective donors are urged to consult their personal tax and financial advisors concerning the specific consequences of making gifts to Colgate. We would be pleased to discuss, in confidence, ways in which you may support Colgate. These measures may also have an impact on your estate planning.
© Pentera, Inc. Planned giving content. All rights reserved.